Roll over image to zoom in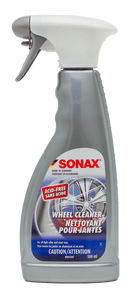 Description
Wheel & Rim Cleaner Safe For All Surfaces
Supplied by SONAX Canada
SONAX Extreme Full Effect Wheel Cleaner is a highly effective, acid-free and pH balanced rim and wheel cleaner that quickly and easily removes dirt and brake dust – even baked-on brake dust – from any wheel surface.
Product goes on fluorescent green then turns red as it loosens brake dust and dirt from wheel surface.
It is safe for all wheels, including aluminum and alloys, painted, anodized or clear coated or powder coated wheels and will not deteriorate clear coats. SONAX Extreme Full Effect Wheel Cleaner even brings white walls and lettering back to life!
Use SONAX Extreme Full Effect Wheel Cleaner to safely clean dirt and brake dust on hard to reach wheel barrels and calipers, too.
Instructions
1. Use on a cool, dry wheel in a well ventilated area.
2. Spray on SONAX Extreme Full Effect Wheel Cleaner full effect holding bottle 6-8 inches from the wheel surface. Spray barrel, caliper and tire. You'll notice the product goes on fluorescent green.
3. As the product begins to work and loosen the dirt and brake dust, it will change from green to red.
4. Exceptionally dirty wheels may require agitation.
5. Allow the product to work for up to 10 minutes. If product dries, simply re-apply.
6. Use a high-power water source and rinse the product from the wheels. May re-apply if necessary.
7. Dry wheel with a clean towel or premium microfiber (Recommend SONAX 450800 Microfiber Drying Cloth).
Payment & Security
Your payment information is processed securely. We do not store credit card details nor have access to your credit card information.