Roll over image to zoom in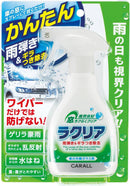 Description
CARALL Automotive Windshield Glass Rain Repellant 250ML Polymers Treatment Coating Agent Conditioning System Made in Japan
Brand: CARALL
Model: 2076
Each spray bottle contains 250mL of product.

Simple works of only spraying and wiping out. The views are prevented from sudden heavy rains, and water-jumps of opposing cars that can not be prevented only by wipers.

The "best conditioning system" also allows the initial user to always enjoy best finishes so that the water repellent polymers are fixed on the glass surfaces.
Payment & Security
Your payment information is processed securely. We do not store credit card details nor have access to your credit card information.